For Windows
Enterprise Edition
For a quote, please contact us. Email
sales at encryptomatic.com, or call +1-651-815-4902.

Finally! An Enterprise FTP Solution that is:

Easy to Deploy

Easy to Use

Designed for Unsophisticated Users

Works with any Desktop Email Client
OutDisk Enterprise FTP for Email Users
Banning large files from emails encourages users to upload files to 3rd file lockers. OutDisk solves the problem by moving large file attachments out of emails and uploading them to your server, where they can be retrieved later by the recipient.
Unlike traditional FTP apps, OutDisk is designed aroudn the email experience. OutDisk Enterprise lets your users attach email messages as they normally do, but then uploads files directly to your FTP servers.
Your users are removed from the complexity of FTP, and never see the FTP logins or passwords. OutDisk provides users with an http link that they can share with the recipient, or it can also insert the link directly into the email message. Recipients then click the link to download the files via http over port 80 (or via https).
OutDisk supports standard FTP as well encrypted FTP SSL.
Each user upload is resides in a unique directory, so files are never co-mingled.
OutDisk can pass download links directly to an email message. Users can work the link into the body of their email.
File removal scripts are included, and can be run on a regular schedule to remove aging directories.
Enterprise package includes Configurator Utility and cleaner scripts.
Easy to Deploy to 1 or 1,000 users
With OutDisk Enterprise, you can silently deploy OutDisk to your user's desktop using your favorite deployment tool.
The process is straight forward: create a xml file using the OutDisk configurator utility, and then deploy it silently from the command line.
Admin's Configuration Utility
The Enterprise version of OutDisk includes a configuration utility that lets the sytem administrator pre-define the user options and securely configure the FTP account settings. These settings are then saved in an xml file that you call when OutDisk is installed on the user's machine. Because your settings will be encrypted using strong Blowfish encryption, users cannot see or change the FTP account settings. To change the user's settings, just create a new xml file and reinstall OutDisk on the user's machine.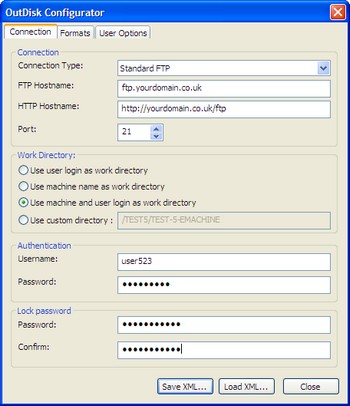 Administrator's Configurator Tool: Connection Tab (above)
If it is desirable to do so, OutDisk Enterprise can be told to use machine-specific information in the upload/download path. This can allow the sharing of a single ftp login, which keeping the upload/downoad paths separate.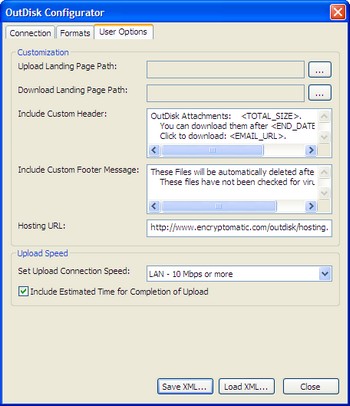 Administrator's Configurator Tool: User Options Tab (above)
For more information about the OutDisk user interface for Microsoft Outlook, see the OutDisk FTP client page.
Press "Save XML" and the configurator will create an XML file that will contain your settings, with passwords and login encrypted.
For volume or site licensing information, contact sales at encryptomatic.com, or call
+1-651-815-4902.