PST Viewer Pro
Open Outlook .PST Files With PST Viewer Pro
The Outlook Viewer for .PST, .MSG, .OST and .EML emails

Related Product: Pst Viewer Lite
Pst Viewer Pro is a professional tool for managing email in Outlook .PST files, even if MS Outlook is not installed on your Windows computer. A native 64-bit or 32-bit Windows, application, it is the choice of people who have important work to do with Outlook .pst files and has been downloaded more than a million times.
Pst Viewer Pro takes you beyond Outlook PST files. It's six viewers in one! It can also read, search and export email formatted as .MSG, .OST, .EML, Winmail.dat and even .MHT files.
If it's important to view your email messages accurately, then Pst Viewer Pro is a great choice. Pst Viewer Pro's advanced rendering engine that can display very complex Outlook emails, including Rich Text messages with embedded graphics and special formatting such as shapes, SmartArt and embedded charts. Hundreds of non-standard email formatting exceptions have been identified and individually included in the code, so that this Outlook viewer can render emails that others simply can't.
An Outlook Viewer That's Easy To Use

The toolbar provides quick access to the functions that you'll use the most, including Reply, Reply All, Forward email, Advanced Search emails by date and fields, Print (batch print is supported), batch export to many different formats including PDF, and a "quick search" function for quickly finding a text string.
To use it, go to File > Open and then select the Outlook .pst file you want to view. Select a folder with multiple .pst files and you can select among them.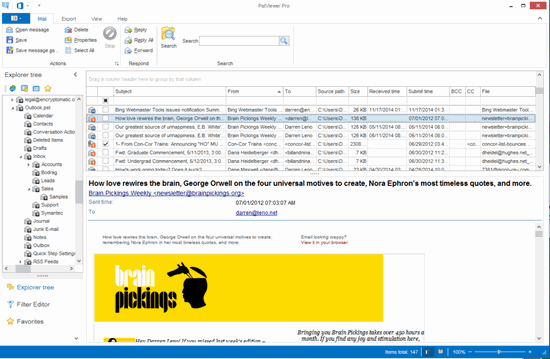 PST to PDF Conversion
Export Outlook PST email to PDF format. It also exports msg, eml, ost, and mht files to PDF. A range of pdf export options lets you decide how to handle email file attachments: extract them to disk, convert them into the pdf image, or embed them as individual files. Support for ISO 19005-1, also known as PDF/A, is compliant with this important email archiving standard. This product is in daily by archivists for email archiving, including one U.S. presidential library.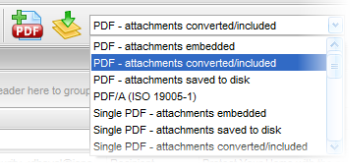 With Pst Viewer Pro's pdf export capabilities, you can:
Convert email to PDF with email file attachments embedded within the PDF file
Convert to PDF with many common file attachments types converted into the PDF image
Bulk extract email file attachments to a location on your hard drive
Convert multiple emails into a single PDF file
Add selected emails to an existing PDF file
Archive emails using PDF/A - ISO 19005-1 standard
Export email to other formats including GIF, TIF, BMP, JPG, CSV (Excel), HTML, MSG, and MHT
Select among different page formats such as A1, A3, etc., or define your own.
Opens All Outlook PST Files
Read .pst files created by any version of Microsoft Outlook, including newer Unicode and older ANSI .pst files. It also handles with the latest Outlook 2013 .pst files.
System administrators are able to customize Pst Viewer Pro's interface, removing any features their users don't need. An .msi file supports silent deployment and silent registration. Detects your operating system and installs either the native 64 or 32-bit version automatically. 64-bit PST Viewer Pro is able to use memory above 4 GB for improved performance with email search and export operations.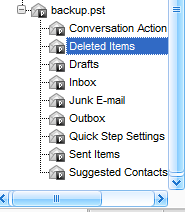 Searching .PST Files
Find the email messages you need with Pst Viewer Pro's search options. Use "quick search" to sift through emails fast. Use "Advanced Search" when you need to specify multiple criteria. Search a specific range of dates, sender, or the recipient's email address.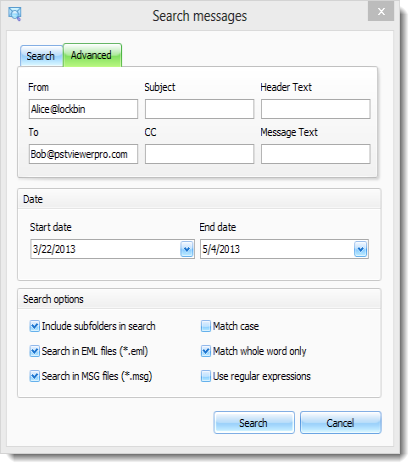 Opens Password Protect PST Files
If you are being asked for a password each time you try to open a PST file and you don't know the password, then Pst Viewer Pro may be able to help. Outlook provides two protection mechanisms for PST files: password protection (weak), and encryption (strong). Pst Viewer Pro can break the password protection mechanism and give you access to the email messages. However, Outlook encryption cannot be broken without a brute force attack and specialized software. If you are unsure whether your PST file is protected or encrypted, use our free trial to see if Pst Viewer PRo can open the file. If it opens, then you're in luck! If it doesn't open, then you will need to look for encryption breaking software, which in all honestly is unlikely to yield satisfactory results.
Download a free trial of Pst Viewer Pro
The software is distributed as a code-signed .EXE executable and a .MSI Windows Installer Package. The executable version will check for required Windows components. If these dependencies are not found, it will offer to download and install them.
In enterprise environments, license activation and silent installation can be accomplished by using the command line parameters specified in the help file. An activation free version is available for enterprise site license customers and for use in some shared environment settings.
Learn more about the Advanced Features
Watch these online Demo's and see our Outlook Pst Viewer in action!
Questions? Ask our support team.

Pst Viewer Pro requires Windows 2000/XP/Vista/7/8/Server. .Net Framework 3.0 or later, 650 MB RAM, 50 MB disk space, and 1 GB processor. For more information, contact our sales team at +1.651.815.4902 x1 or email sales at encryptomatic.com. For product assistance, please open a help ticket.