Save Outlook Email to PDF with
MessageExport for Microsoft Outlook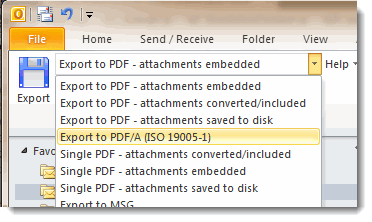 (Related Product: PstViewer Pro)
MessageExport is an add-in for Microsoft Outlook that lets you save Outlook email to PDF, and many other formats.
MessageExport provides several options for handling email file attachments during PDF export.
You can:
- Embed email attachments within a PDF file so they can be extracted and edited later.
- Include email attachments within a PDF file as part of the PDF image (Office Documents, images, text files, etc). If a file cannot be be converted to an image, it will be embedded within the PDF.
- Save many emails and attachments to a single PDF file.
- Create a PDF of the email, and extract all attachments to a folder.
MessageExport supports the conversion of the following document types into the PDF file:
doc, and docx*
xls, xlsx*
ppt, pptx*
html
mht
txt
pdf
emf
raster
*Requires Office 2007 sp1 or later. If not present documents are not converted, but will be included within the PDF file as attached documents.
Learn More about MessageExport | See Related Product PstViewer Pro