PST Viewer Lite
Open Outlook .PST files, search, print and PDF emails.
| | |
| --- | --- |
| | Pst Viewer Lite is the easy way to view, search and save email from Outlook .PST files. |
"How do I open a .pst file?" We help people answer that question every day with Pst Viewer Lite. If you need a quick and reliable way to access your Outlook email messages, you'll love Pst Viewer Lite.
"Pst Viewer Lite Installed easily, and did exactly what it said it would! It opened my .pst file! Thanks!"
(Jane L., Sussex, England)
Pst Viewer Lite will install as your Windows default application for Outlook .pst files. In addition to .pst files, Pst Viewer Lite can read common email file formats including .eml, .msg, winmail.dat, .mht and .ost. It's actually six viewers in one!
PST Viewer Lite has all the features that a home user needs to quickly access their email content.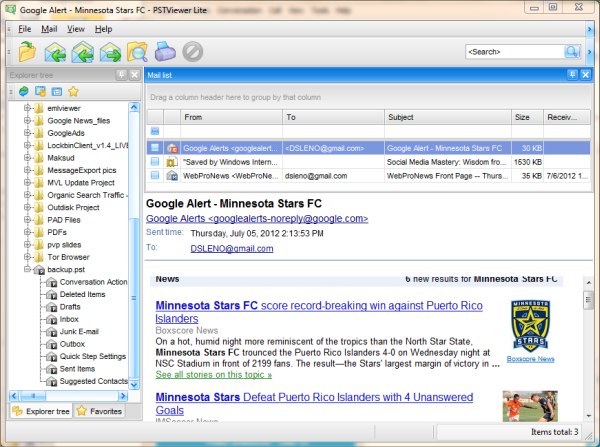 How is Pst Viewer Lite different from the Pro version?
PST Viewer Lite has the same powerful capabilities as the Pro version, including the ability to export an individually selected email message different formats such as .pdf, but at an affordable price. The major difference is that Pro will export an unlimited quantity of messages from .pst files, while Lite will export individual messages. Pst Viewer Pro also allows for creating custom export profiles and has more pdf formatting options.
For a PST Viewer able to batch export and convert thousands of emails to PDF and other formats, see PST Viewer Pro
How to use Pst Viewer Lite
Start Pst Viewer Lite and then select the folder with your .pst file(s). Click on the file you want to open. Click on the folder you want to view.
If you want to search or browse all of the messages in your .pst file, right click on the name of the .pst file and choose "Switch to Scan with Subfolders."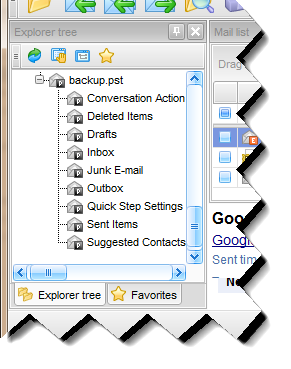 PST Viewer Lite Features...
Opens all Outlook PST files (Unicode and ANSI)
Opens Outlook .msg files (rich text, text, and html)
Opens many non-standard .msg file formats (Mailmax and many others)
Opens .eml files (RFC-2822 and RFC-822) in text or HTML
Opens a password protected .pst files without the password
Extract embedded pictures and file attachments from emails
Pst Viewer Lite works without Outlook on the computer
Displays contents of Outlook notes, tasks, calendar items, contacts
Search your .pst, .ost, .msg or .eml files for specific criteria
Searches .pst files without the need for a long indexing period.
Export a selected email to PDF format
Export individual emails to MHT, HTML, TXT, JPG,TIF, CSV, PNG, BMP
Reply To and Forward emails using your default email client
Read and search Messages stored in Recursive Directories
View Internet header
View MAPI properties
Export individual email file attachments
Print an email
Favorites list (folder locations or files)
Silent Installation from command line
Language Menu Support for English, French, Italian, German, Russian, Polish, Portuguese, Arabic, Hindi, Filipino.
Automatic software update notifications (may be disabled for enterprise users).
No Risk! 15 day free trial followed by a 30 day money back guarantee
Includes 1 year free updates and support.

Pst Viewer Lite requires Windows 2000/XP/Vista/7, .Net Framework 2.0 or later, 750 MB RAM, 40 MB disk space, and 750 MHz processor.
For more information, contact our sales team at +1.651.815.4902 x1 or email sales at encryptomatic.com. For product assistance, please open a help ticket.