Backup and convert email messages in Outlook® that have been archived by Symantec® Enterprise Vault®
System Requirements: Compatible with Outlook 2016/2013/2010/2007
Microsoft Windows 10, 8, 7.
Requires Microsoft .Net Framework 4, Internet Explorer 8.0 or later. Compatible with Enterprise Vault 8/9.
MessageExport is an add-in for Outlook that lets users backup email in a wide variety of formats. With MessageExport, you can export, format, convert, copy and process selected Outlook email messages and folders.
Without MessageExport, saving Outlook email that is archived to Enterprise Vault will result in a short "stub" file that does not include all of the message content. MessageExport contacts the Enterprise Vault server, retrieves selected email messages and their file attachments, and then saves them to .msg, pdf, .eml, and many other formats.
Use MessageExport to:
Backup Outlook email folders to a neutral format such as PDF, EML, MBOX, or MHT.
Save Outlook emails to local, network or Sharepoint folder
Preserve the Outlook folder structure to keep e-mail organized during export
Export email to PDF with Office documents and raster file attachments imaged (Requires Office 2007 or later)
Retrieve and convert Outlook emails archived in Symantec Enterprise Vault
Export large batches of Outlook emails, or individuals emails
Name exported Outlook email according to your requirements, such as date, from email, subject and more
Extract Outlook email attachments in bulk
Batch print Outlook emails
Run an application or process after export is complete
Supported Email Export formats:
| | |
| --- | --- |
| Outlook to PDF | Yes |
| Outlook to MSG | Yes |
| Outlook to EML | Yes |
| Outlook to HTML | Yes |
| Outlook to MHT | Yes |
| Outlook to MBOX | Yes |
| Outlook to GIF, TIF, PNG | Yes |
| Outlook to TXT | Yes |
| Outlook to CSV | Yes |
MessageExport can also compress the exported Outlook emails into a single zip file, optionally apply password protection, and then copy it to a designated location, such as a local folder, network location, or even a Sharepoint server library.
How to Use MessageExport for Outlook
Using MessageExport for Outlook is as easy as 1, 2, 3.
Select the Outlook messages or folder you want to export.
Choose the desired export profile (such as "Export to PDF") from the drop down list.
Click the disk icon to start the export
You can also drop and convert individual files directly to a selected folder using thes Export folder Explorer.

Export Folder Explorer lets you "drag and convert" email messages in a single step. Just choose your export profile, and then drag the email to the folder. When you drop the email, it is automatically converted according to the selected export profile.
Creating Custom Export Profiles
The Export Profiles that appear in the MessageExport toolbar may be customized and new profiles can be constructed to meet your specific needs.

MessageExport allows you to mass convert Outlook email messages and extract file attachments.
Preserves Outlook Email Folder Structure
Are you one of those very organized people who meticulously files every email into its proper folder? MessageExport lets you preserve the Outlook folder structure while exporting email messages.
Custom Naming Of Exported Email Files
Assigning a unique file name to exported messages is easy with MessageExport. A wizard helps you construct unique file naming structures using any combination of these fields: To, From, Subject, Send Time, Send Date, Receive Time, Receive Date, Importance, Export Time, Export Date.
You can join any of these criteria using "+ _ -".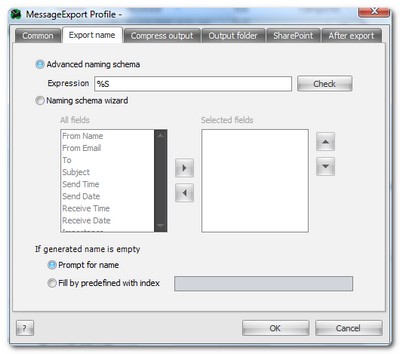 MessageExport is available as an exe, or as an .msi file that can be deployed across your enterprise.
Customization is available
*Microsoft® and the Office™ logo are trademarks or registered trademarks of Microsoft Corporation in the United States and/or other countries. Symantec® and Enterprise Vault™ are trademarks of Symantec Corp. Encryptomatic® and MessageExport™ are marks of Encryptomatic LLC.