What is Encryptomatic OpenPGP for Outlook?
It's an easier to install and use OpenPGP email encryption add-in for Microsoft Office Outlook.
If you have been struggling to get OpenPGP email encryption to work in Outlook, we built this add-in for you! We wanted to use OpenPGP with Outlook in our business, but we quickly learned that the available software tools were either too expensive, too difficult to deploy, or too unstable to use reliably. So being software developers, we built one ourselves!
End-to-end e-mail encryption is a crucial tool for protecting your business communications and personal privacy. Journalists use OpenPGP to communicate with sources. Businesses are required by law in the U.S. to encrypt certain types of information before sending by e-mail. Lawyers, bankers, and accountants use e-mail encryption to protect their clients.
Encryptomatic OpenPGP for Outlook is an add-on that integrates with the Microsoft Outlook menu system to deliver the benefits of OpenPGP e-mail encryption to even non-technical users.
Quick Start to Encryptomatic OpenPGP for Outlook
After downloading and installing Encryptomatic OpenPGP, open a new e-mail window in Outlook and locate these buttons in the Outlook tool bar.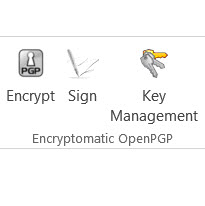 Select the "Encrypt" button, compose your message and "Send" your Outlook e-mail Your message will be encrypted then sent to the recipient. Messages can also be signed by selecting the "Sign" button.
When the email message is encrypted, it will be obscured while it is in transit. It will appear to snoops as the message below.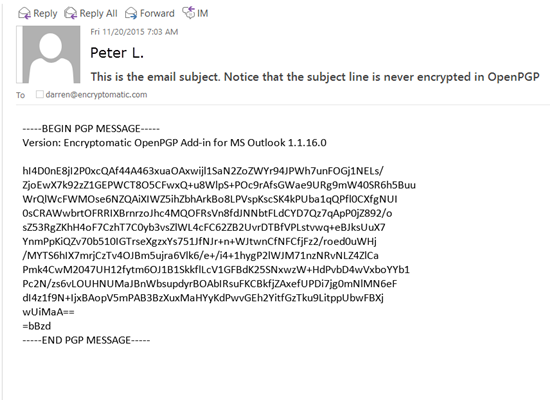 Remember that the recipient will need Open PGP software to decrypt the message. If you need an e-mail encryption solution that does not require software on the recipient's device, try our Lockbin.com service, which allows retrieval of the encrypted message online. Lockbin also has a convenient add-in for Microsoft Outlook that can be installed in Outlook along with Encryptomatic OpenPGP.
Is Encryptomatic Open PGP Open Source?
Encryptomatic Open PGP uses a highly regarded open source cryptolibrary. We are active contributors to the project, both financially and by offering code improvements. While the crypto library is open source, our signed installer package and our Outlook integration code is presently closed source, but may be opened later when this project is substantially complete.
What is PGP?
PGP, or Pretty Good Privacy, is also known today as GPG. Its a widely used privacy tool that changed the world when it was introduced in 1991 by Phil Zimmermann, a person who paid a high personal price to share it with the world. How Open PGP came to be is a fascinating story.
PGP uses a public key for encrypting a message, and a private key to decrypt. Before sending an encrypted message, you will first need to obtain the recipient's public key (and vice versa). Typical ways of sharing public keys is to just send it to someone in an in an e-mail, or to upload it to a public key server where Encryptomatic OpenPGP can find it automatically.
Encryptomatic OpenPGP for Outlook is compatible with popular implementations of Open PGP and GPG, including Enigmail.
Does Encryptomatic OpenPGP Support Key Servers?
Yes, it supports sharing, discovering and revoking keys with popular PGP key servers, such as MIT.EDU. You can add a URL for any other key servers you wish to use. Public keys may also be shared manually.
What other Options Do I Have?
There are numerous settings in Encryptomatic OpenPGP for Outlook that you may configure, including:
Passphrase unlock time
Checking for updates
Key server refresh
Add favorite key servers
Configure rules around encrypting based on domains
Always encrypt or always sign every email
Configure email validation warnings
Add or remove email addresses for a key
Change passphrase
Revoke keys
Import public keys from file, clipboard or key server
Import other private keys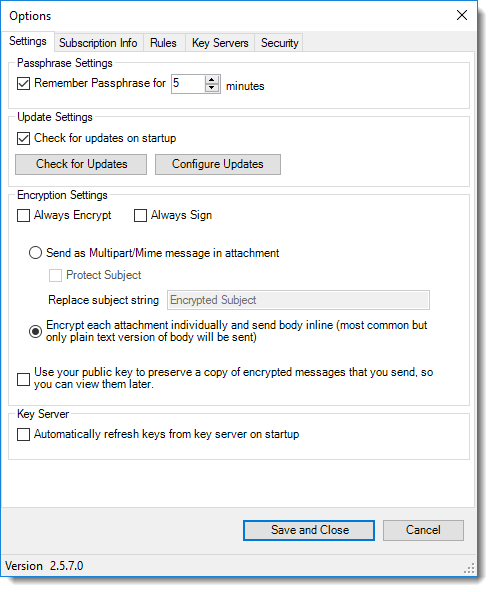 How can I share my Public Key?
To share your public key by e-mail with someone else, select Encryptomatic OpenPGP's "Key Management" button. Next click on the e-mail address whose public key you want to share. Finally, go to "Key Share" and choose one of the options, such as uploading to a key server, copying to your clip board, saving as a file or sending it in an e-mail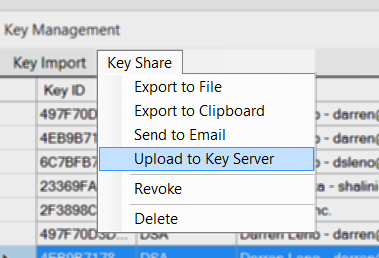 Isn't E-mail Already Encrypted? I heard Gmail was encrypting e-mail.
A well managed e-mail server will only pass messages to another email server over an encrypted TLS connection. While this is always a good idea, you can't depend on it because it is out of your control. Some email servers still accept unencrypted connections, meaning that your message will be vulnerable to being read or tampered with while in transit.
Another issue is whether or not e-mail messages stored on the server are encrypted while at rest. Unencrypted text e-mails on an email servers are vulnerable to scanning, tampering, persistent storage and hacking (just ask the people at Sony).
By using OpenPGP tools like Encryptomatic Open PGP for Outlook, your message is encrypted end-to-end, from the sender to the receiver. Even if the email server is mismanaged, the text of your OpenPGP encrypted message remains encrypted anyway.
What other software is there for encrypting communication?
There are several projects we like. Check them out if Encryptomatic OpenPGP isn't the best fit for you.
Lockbin.com is another project of ours that makes it very easy to communicate with non-technical people. It's designed for small office professionals. It uses OpenPGP on the backend, but insulates you and the recipient from the key exchange.
For email encryption on your Android phone, we like K9 Mail with Open KeyChain.
For day to day mobile messaging, we use and love Signal Private Messenger.
You should also be using whole-disk encryption to protect all of your stored data. A common option for Windows users is Microsoft's Bitlocker disk encryption, which will help protect email messages you may have decrypted on your device.
Free for Personal Use, Non-Profit Organizations, Activists and Journalists.
If you are working to improve the world and speaking truth, we want to support your work. Encryptomatic OpenPGP add-in is free for lots of people, and affordable for everyone else.
Remember that while OpenPGP email encryption will protect the content of your email message, it does not hide the metadata around the message, including the email address you are sending to, the time the message was sent, ip address, the frequency of communication, etc. For most business users, these concerns are less important than obscuring the message content (which OpenPGP does very well). But for journalists and activists, where protecting a source's identity is paramount, there may be other methods of communication you should consider using.
Differences Between Free and Business Licenses.
We will say it clearly: the encryption capabilities and features between the free and business licensed software are identical.
We pay our developers and support people. If you value this Outlook add-on, purchasing a license helps us continue working on the project and providing daily professional support.
Use of Encryptomatic OpenPGP on a domain that is used to conduct for-profit business requires a business license. No license is required for personal use, or for use by legal not-for-profit organizations, activists and journalists. Please play fair.
OpenPGP for Microsoft Outlook 2019/2016/2013/2010
Encryptomatic OpenPGP works on all Windows versions of Microsoft Outlook that are still supported by Microsoft Corp. It will work with either 32 or 64 bit versions of Outlook.
System administrators are able to customize the user interface, removing some features their users don't need. An .msi file supports silent deployment and silent registration. Our installer detects your operating system and installs either the native 64-bit or 32-bit version automatically.
Contact our sales team for enterprise pricing.