What is Encryptomatic OpenPGP for Outlook?
It's an easy to install and use OpenPGP email encryption add-in for Microsoft Office Outlook.
If you have been struggling to get OpenPGP email encryption to work in Outlook, then this software is for you! We wanted to use OpenPGP with Outlook in our business, but we quickly learned that the available software tools were either too expensive, too difficult to deploy, or too unstable to use reliably. So being software developers, we built one ourselves!
End-to-end e-mail encryption is a crucial tool for protecting your business communications and personal privacy. Journalists use OpenPGP to communicate with sources. Businesses are required by law in the U.S. to encrypt certain types of information before sending by e-mail Lawyers, bankers, and accountants use e-mail encryption to protect their clients.
Encryptomatic OpenPGP for Outlook is an add-on that integrates with the Microsoft Outlook menu system to deliver the benefits of OpenPGP e-mail encryption to even non-technical users.
Quick Start to Encryptomatic OpenPGP for Outlook
After downloading and installing Encryptomatic OpenPGP, open a new e-mail window in Outlook and locate these buttons in the Outlook tool bar.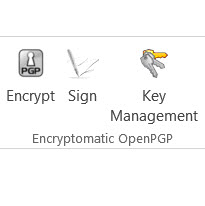 Select the "Encrypt" button, compose your message and "Send" your Outlook e-mail Your message will be encrypted then sent to the recipient. Messages can also be signed by selecting the "Sign" button.
After it is encrypted, the message will be obscured while it is in transit. It will look like the message below.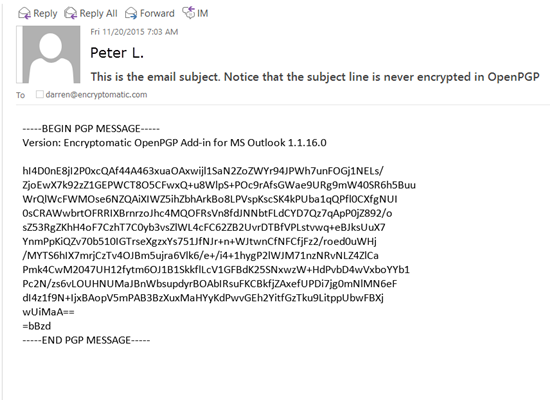 Remember that the recipient will need Open PGP software to decrypt the message. If you need an e-mail encryption solution that does not require software on the recipient's device, try our Lockbin.com service, which allows retrieval of the encrypted message online. Lockbin also has a convenient add-in for Microsoft Outlook that can be installed in Outlook along with Encryptomatic OpenPGP.
Is Encryptomatic Open PGP Open Source?
Encryptomatic Open PGP uses a highly regarded open source cryptolibrary. We are active contributors to the project, both financially and by offering code improvements. While the crypto library is open source, our signed installer package and our Outlook integration code is presently closed source, but may be opened later when this project is substantially complete.
What is PGP?
PGP, or Pretty Good Privacy, is also known today as GPG. Its a widely used privacy tool that changed the world when it was introduced in 1991 by Phil Zimmermann, who paid a high personal price to bring it to the world. How Open PGP came to be is a fascinating story.
PGP uses a public key for encrypting a message, and a private key to decrypt. Before sending an encrypted message, you will first need to obtain the recipient's public key (and vice versa). Typical ways of sharing public keys is to just send it to someone in an in an e-mail, or to upload it to a public key server where Encryptomatic OpenPGP can find it automatically.
Encryptomatic OpenPGP for Outlook is compatible with popular implementations of Open PGP and GPG, including Enigmail.
Does Encryptomatic OpenPGP Support Key Servers?
Yes, it supports sharing, discovering and revoking keys with popular PGP key servers, such as MIT.EDU. You can add a URL for any other key servers you wish to use. Public keys may also be shared manually.
How can I share my Public Key?
To share your public key by e-mail with someone else, select Encryptomatic OpenPGP's "Key Management" button. Next click on the e-mail address whose public key you want to share. Finally, go to "Key Share" and choose one of the options, such as uploading to a key server, copying to your clip board, saving as a file or sending it in an e-mail