OutDisk SFTP with Outlook Add-in Sends Large File Attachments by E-mail.
Compatible with Microsoft Outlook

OutDisk version 4.6 requires Windows 10/8/7 and web hosting with server side includes enabled. End User License Agreement. Uninstall OutDisk by running the installer package and choosing "Uninstall," or through the Windows Add/Remove Programs service. Requires a web hosting service, not included.


View OutDisk Video Demo
View more OutDisk product images.
OutDisk Secure FTP Replaces Email File Attachments With Download Links
OutDisk's Features
Allows IT Managers to provide a simple, familiar, non-technical solution to their users who need to share large file attachments through email. No knowledge of SFTP required by the user.
Automatically upload files when a file size threshhold has been reached
Supports SFTP upload for security
Integrated with the Windows Desktop
Includes an add-in for Microsoft Outlook
Uses your SFTP account, so no expensive monthly service fees!
SFTP account settings can be "locked" to keep users from altering the configuration.
Customizable recipient "Landing Pages" notify the receiver if a file is being uploaded, and can force the download to save to disk (for exaple, PDF files will not display in IE).
Using our PHP/ASP scripts, files can be deleted automatically after a specified number of days. Just run it as a scheduled task or a chron job.
Multiple users can share a single SFTP account without co-mingling files
Each email has its own unique file subdirectory, increasing security.
For organizations with compliance procedures, OutDisk provides control over the distribution of email attachments.
Users save Time and Aggravation: no manual uploading, complex FTP commands, or cutting and pasting http links
Attachments are not stored in Outlook .pst Sent Items folder and your Microsoft Exchange mailbox
Optionally secure your attachments with Winzip compatible 128-bit strong AES encryption
Optionally compress your attachment(s) into a single smaller zip file
Create a self extracting zip file
Sender can use their own web host and domain: no third party intermediary stores your files
Gives you control over where and how long your files are stored
Enterprise tool allows remote setup and deployment of SFTP settings and custom landing pages.
Outlook Menu SIntegration
For Microsoft Outlook users, OutDisk simplifies the uploading of files.
To use Outlook add-in, attach files to your email as usual, and then click the "Use OutDisk" button, and send your email.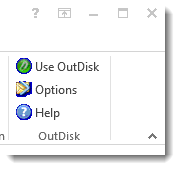 It automatically removes large files from the email, uploads them to your server, and inserts a download link into the email message. Download links may be inserted at either the top or bottom of the email mesages, or at a position in the message where the sender inserts a token.
There are several options in OutDisk specifically for Outlook users, including a file size threshold that will automatically activate OutDisk. You can also customize the default text that is inserted around the URL link in the email message.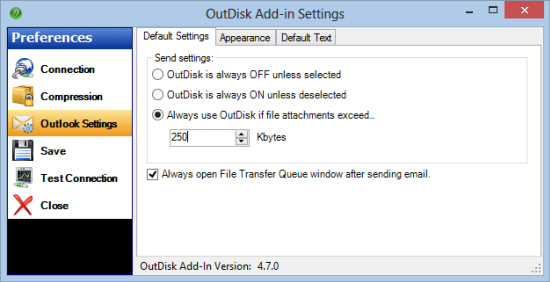 Works from the Windows Desktop
OutDisk can also be used from the Windows Desktop. A desktop File Drop icon lets you "drag and drop" files into OutDisk.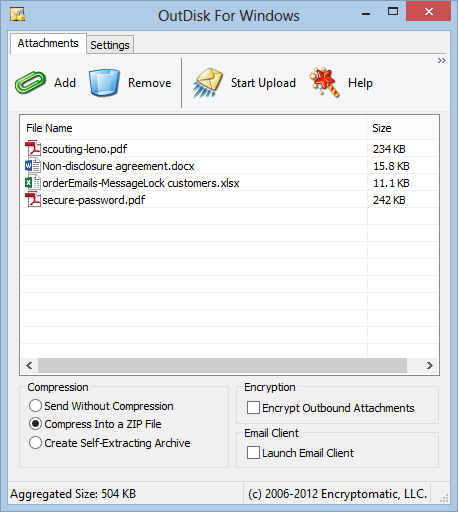 When the user selects "Start Upload," OutDisk for Windows sends the files to your web server. If the "Launch Email Client" box is selected, OutDisk will invoke your email client and pass the download link directly to a new email message. If this box is not checked, OutDisk will copy the link to the clipboard.
Winzip compatible AES 256-bit zip encryption is supported.
Configuring OutDisk
To use OutDisk, you will need a web hosting service that provides HTTPS access to the files, and supports PHP or ASP. Most standard web hosting accounts will work very well with OutDisk.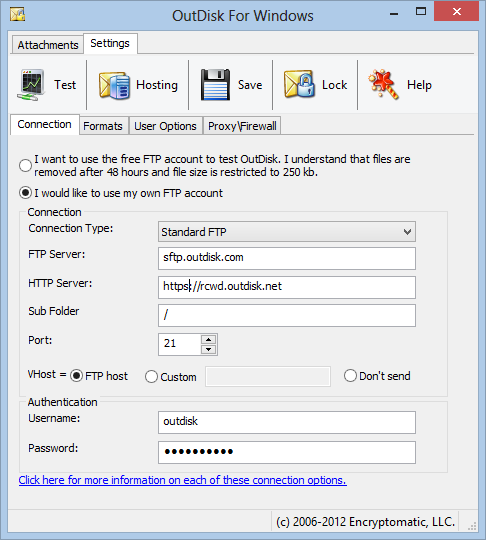 Recipient Landing Pages
OutDisk uploads each batch of files to a unique sub folder named with high entropy for security. You can customize the landing page that recipients see when they follow your link. OutDisk will also automatically upload an index.shtml page into the directory which you can customize with your own text and logo. This page can display your logo, and the files that are available for download. The user then clicks on the files and downloads them to their disk using their web browser and standard http or https.
See below for an example of the OutDisk download landing page, which can be customized with a little bit of web page experience.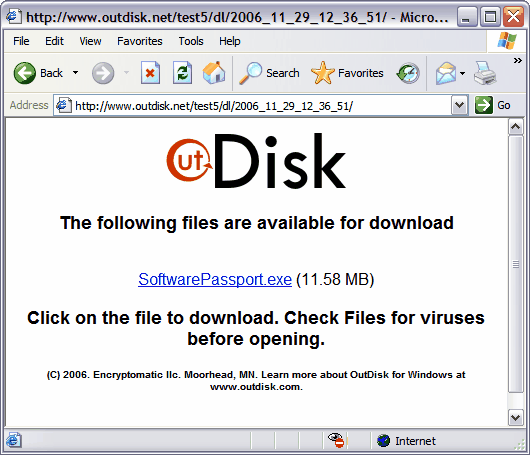 OutDisk's landing pages can be branded with your logo by anyone who has a bit of knowledge editing html.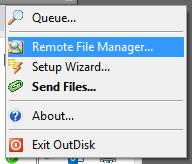 Volume and Site Licensing
To learn more about OutDisk, or for information on volume licensing, please contact our sales team at sales at encryptomatic.com, or call +1-651-815-4902 x1