Open Outlook .MSG Email files.
Search, print and convert Outlook .msg to .pdf.
Try MsgViewer Pro Free!
Requires Microsoft Windows 10/8/7.
MsgViewer Pro is also known as PstViewer Pro.

If evaluating for a Site License
please contact the Sales Team at +1-651-815-4902 x1, or email: sales at encryptomatic.com
Get a custom quote
Related Product: MsgViewer Lite
Since 2006, MsgViewer Pro by Encryptomatic LLC has been helping Microsoft Windows users manage their email content. When Outlook emails are saved outside of Outlook's .pst file, they are converted into individual .msg email files. MsgViewer Pro can manage large quantities of .msg files. If you have thousands of .msg emails in recursive directories, MsgViewer Pro will load them all into a single list from which you can filter, search, and batch convert to PDF, MBOX, CSV, EML and many other useful formats.
In addition to .msg files, you can now manage other email formats, including emails stored as .eml, mbox, .mht files, as well as Outlook .pst and .ost files. MsgViewer Pro is really six email viewers in one!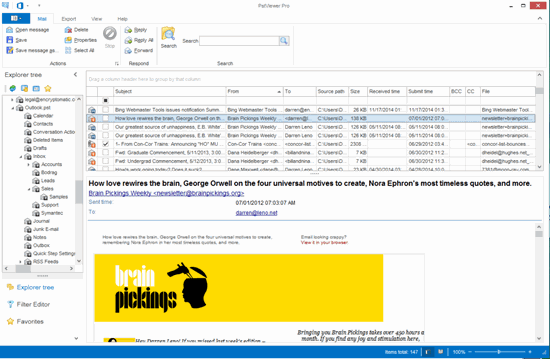 MsgViewer Pro is the most accurate email viewer for .msg files outside of Outlook itself. It can render text, html, and complex rich text formatted .msg files that have Outlook SmartArt and embeded graphics. Hundreds of non-standard .msg email formatting examples have been included, making MsgViewer Pro extremely accurate. You'll appreciate MsgViewer Pro's powerful rendering engine while converting .msg files into .pdf format.