MailDex® by Encryptomatic® LLC is a Windows software tool for indexing, discovering and converting emails. MailDex works across many different email formats, including Outlook .pst, .ost, and .msg files, and .eml, .mbox, winmail.dat, and .mht files. With MailDex, you can discover important emails hidden among millions.
Use MailDex to organize, find, archive, and discover important email content.
Why MailDex?
MailDex is a precision tool that is in active development. We provide several avenues for support, including telephone, live chat, online and email. Because MailDex is built for demanding users who require reliability and acurate results, the MailDex team acts on user feedback when improving the product. By now you probably have learned that email software field is littered with junk products offered by anonymous people. We know that, too, and so we work hard to earn and retain your trust.
Support. Reliability. Active development. Quality results. We're a transparent U.S.-based company. This, and more, is what sets MailDex apart.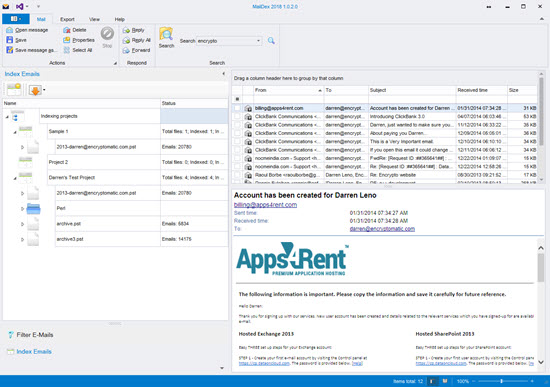 MailDex has an advanced proprietary email rendering engine able to accurately display complex Microsoft Outlook messages, including Rich Text emails with embedded graphics and special formatting such as shapes, SmartArt and embedded charts. Hundreds of non-standard email formatting exceptions have been identified and individually included, enabling MailDex to render emails that other products can't. This means you get highly accurate images when converting email to image documents such as PDF.
Reply and forward to email messages from MailDex using your default Windows email application, such as Thunderbird, Outlook, or any other email client that supports Simple Mapi.