Converting E-mail and File Attachments to PDF Documents
Encryptomatic LLC develops two software programs that can help you convert Outlook e-email into PDF document files. Both are detailed here, with links to more information and free trials.
If you prefer to work independent of Microsoft Outlook, choose PstViewer Pro.
If you prefer to work from with the Outlook user interface, choose MessageExport add-in for MS Outlook.
Mopst Windows software applications that claim to convert e-mail into PDF file fail to get the job done right when it is time to handle e-mail file attachments. Are products are more than simple "PDF printers." They are designed to be used by professionals who have important work to do and deadlines to keep.
Windows Software to Convert E-mail to PDF Documents
MessageExport Add-in for Outlook
MessageExport is an add-on for Microsoft Outlook that converts email to PDF and other formats. It is accessible from Outlook's menu system. MessageExport can convert most email file attachments, preserve Outlook's folder structure, and even give special names to the exported files.
To export email to PDF with MessageExport, select the e-mail messages from the Outlook mail list. Then choose among the different options for managing the file attachments.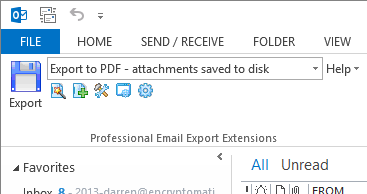 Export to PDF - attachments saved to disk, will convert the email into PDF, while extracting file attachments to disk.
Export to PDF - attachments embedded, will embed the file within the PDF so that it can be later extracted from the PDF and edited.
Export to PDF - attachments converted, will attempt to convert attached files (images, documents) into the PDF image itself.
Special Email to PDF Export Capabilities
MessageExport also includes some unique capabilities that are helpful to people who work with e-mail, such as handling emails attached to emails. For example if you are exporting an email that has a .eml file, which itself has a .msg email attachment, MessageExport will process all three of those emails into a single file.
Export multiple e-mails into a single PDF file. Save selected e-mails into a single large PDF.
Export e-mail to an existing PDF file. Add e-mails to a single PDF file as you discover them.
Export emails to PDF in bulk, or individually. You can select any number of e-mails to convert.
Automatically export e-mails from Outlook to PDF files. MessageExport has advanced capabilities to allow you to automatically convert Outlook e-mails to PDF by implementing the timer function. There are many ways to configure this option, such as selecting specific folders to process. When combined with Outlook's rules feature, this becomes a very powerful function.
PstViewer Pro
PstViewer Pro is a standalone Windows email viewer that operates independently of Microsoft Outlook. It processes e-mails stored as .pst, .ost, .eml, and .msg format. PstViewer Pro will export e-mail into PDF files, with many of the same functions included within the MessageExport add-in.
PstViewer Pro supports batch conversion of e-Mail into PDF documents with options to embed, convert or ignore file attachments.
The PDF document page size can be set to any common page size, from Legal, Letter or Ledger, to the A- and B-sizes, or you can customize your own page size.
If you have Outlook 2007 or later installed on our PC, PstViewer Pro can convert Microsoft Office file attachments (Word, Powerpoint, Excel, etc) to the PDF document. Documents that are not convertible will be embeded inside the PDF to preserve the context.

PstViewer Pro supports the PDF/A (ISO 19005-1) standard for creating e-mail archives, making it a useful tool for long term preservation of e-mail messages.