EML Viewer Pro Opens .EML, and Other Common Email File Formats
EML Viewer Pro is a flexible email viewer for managing emails stored as RFC-822 EML files, as well as Outlook PST, OST, MHT and MSG files.
With EML Viewer Pro you can manage directories with thousands of .eml files. Browse, search, print, and export .eml files PDF format, or to MBOX for importing messages back into an email program. EML Viewer Pro has features for system administrators, such as silent deployment from a MSI file, with switches to turn off specific menu items or features.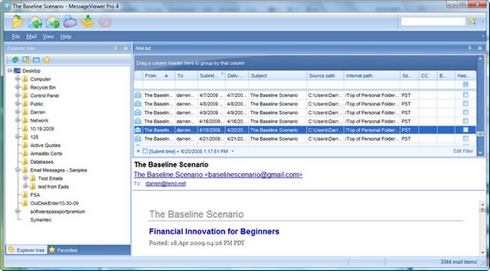 Access file attachments or graphics that are stored within your EML files. Search through thousands of EML files for text strings, and then copy the revealed messages to a different folder. Other feature includes:
Search EML, PST, MSG, OST files
Convert EML files to other image formats, including TIF, GIF, BMP, JPG.
Convert EML files to CSV or TXT format, for import into a database program.
Apply a special naming scheme to the exported files
Exports EML to PDF files
Questions about EML Viewer Pro? Contact us!
(Note: EML Viewer Pro has been merged with Pst Viewer Pro. The products are now identical.)