The Alternative to Complicated E-Mail Encryption
PDF Postman lets you send a private encrypted email message to anyone, in a way that won't bother the recipient with special software. Anyone with a standard PDF viewer on their device can open a PDF Postman encrypted file if they know the password.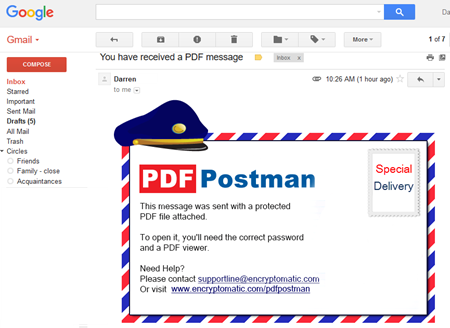 PDF Postman Email as the recipient sees it in her Inbox.
Receiving secure email messages in PDF format is simple for the recipient
PDF Postman is compatible with the encryption in major PDF viewers such as Adobe Reader
AES encryption is a standard approved by NIST for protecting US Government documents
PDF Postman protects email and file attachments with strong AES-256 or AES-128 bit encryption
Recipients can extract file attachments and edit them after entering the password
Send encrypted messages to recipients on Windows, Mac, Linux, and mobile platforms, wherever PDF is supported
A simple way to deliver secure messages across device platforms
No complex certificates or private key exchanges, no special software for the recipient to download, no recurring subscription or re-authorization fees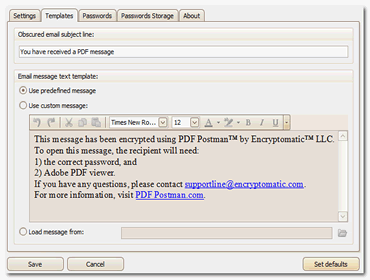 Customize the PDF Postman cover message from the Template page in settings.
Send secure email messages with strong AES 256 bit encryption.
PDF Postman is the easiest way to send a secure message from Outlook. Nearly anyone on any computer or mobile device can receive a PDF Postman message without installing any special software. All they need is the password. Click here for a full list of PDF Postman's features and benefits.

PDF Postman secures outbound email messages and file attachments using the Portable Document Format or PDF envelope. PDF Postman leverages the wide adoption of PDF Reader software, eliminating the need for special software on the recipient's computer.

In addition to converting the email and attachments to secure PDF, PDF Postman also gives you the option to convert attachments-only to secure PDF, or convert attachments to an unsecured PDF email attachment.
Easy to Use
To send a secure message, just type your Outlook email message as you normally would, select the "PDF Encrypt Email" button from the Outlook tool bar, and send your message.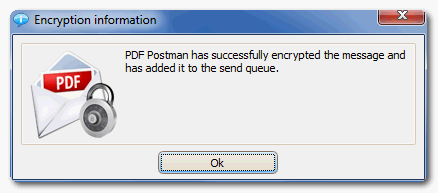 PDF Postman will convert your Outlook email and attachments into to a PDF file, then apply strong US Government approved AES-256 bit encryption.

PDF Postman is an alternative to complex email encryption programs that may require exchanging public keys and buying certificates from a certificate authority, installing special software or surrendering personal information during a registration process.

Whether you are a small office/home office user, or a corporate professional with an experienced IT department, you will appreciate the ease with which PDF Postman can be installed and used.
Cross Platform Convenience
More and more, the people you need to communicate with are utilizing a variety of devices: laptops, iPads, mobile phones, etc. You need to reach them securely on whatever device they happen to be using.

PDF Postman's secure PDF files are compatible with PDF viewers available for the Windows, Mac, Linux, Solaris, and popular mobile platforms like Android. Leveraging the ubiquity of the PDF format means your recipient already has the software needed to open your message.
Simple for the Recipient
To open your PDF Postman file, recipients simply click on the PDF file to open it. Their PDF viewer will prompt them for the password.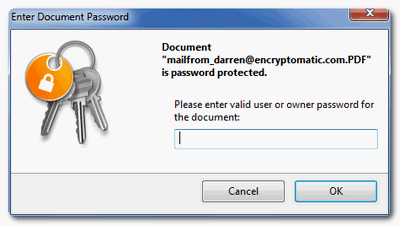 Click here for a tutorial on how to open encrypted PDF files and to download a sample encrypted PDF file that was created by PDF Postman.

Don't inconvenience important clients with expensive and complex email encryption solutions, or centralized services that gather their personal information. Instead, let PDF Postman deliver your emails securely to any device the recipient wants to use.