Simple To Use
Since 2006, Ost/PstViewer Pro™ by Encryptomatic® LLC is the premier Windows tool for reading your Outlook emails stored in .os and .pstt files, without Outlook. It works with any .ost or .pst file, from Outlook 98 to Outlook 2019/365. Use it to organize, discover, print, and convert emails even if they were created by different mail clients.
In addition to Outlook .ost files, Ost/PstViewer Pro gives you access to many other email formats supported by dozens of email clients, including Thunderbird.
Supported e-mail formats include OST, PST, MSG, EML, MHTML, Winmail.dat, and MBOX. Ost/PstViewer Pro can combine different email files into a single searchable email list. Don't fuss with multiple viewers or email clients when Ost/PstViewer Pro can open all your emails.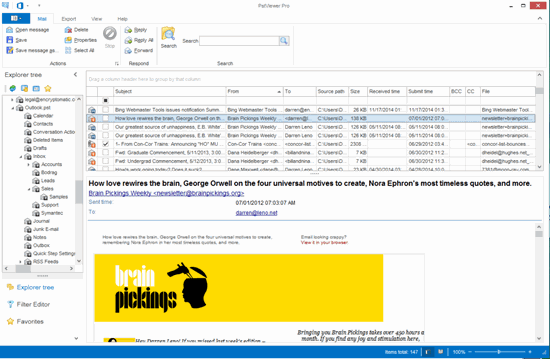 More than a decade of active software development has been invested in Ost/PstViewer Pro. During that time, hundreds of malformatted email exceptions have been discovered in the wild and incorporated directly into Ost/PstViewer Pro. That's why it is the most accurate email viewer on the market.
Ost/PstViewer Pro has been built with a focus on rendering complex emails that include rich text with embedded graphics, and those that SmartArt with embedded charts, shapes and drawings.