How to Convert Outlook® .PST Files to PDF Files
There are many reasons why you may need to convert PST email to PDF: archival purposes, record keeping, sharing, or preparing evidence for litigation. If your messages are stored in PST, OST, MSG or EML format, PstViewer Pro™ can convert them to PDF files.
Before converting Microsoft® Outlook® e-mails into PDF documents, it is important to carefully consider how you want to process e-mail file attachments. Many PDF converters do a fine job converting the e-mail portion to PDF, but fall short in properly handling file attachments. PstViewer Pro™ was built for this task. It gives you the options you need to get the results you want. With PstViewer Pro, you can ignore attachments, convert or embed file attachments into individual PDF documents, and convert multiple e-mails into a single PDF file.
To export e-Mails to PDF, locate the "Export" tab on the PstViewer Pro toolbar. The yellow "Export" button will begin the process of exporting the selected e-Mails.
Next, choose the desired export profile. PST Viewer Pro supports three different modes "out of the box."

PDF - attachments embedded: PST email is converted to the PDF image, while attachments are embeded within the pdf file, and can be extracted by a pdf viewer.
PDF - attachments converted/included: Email is converted to the PDF image, while attachments are converted to PDF image. If Pst Viewer Pro is unable to convert an attachment, then it will embed the attachment as a file. To convert Microsoft Office documents requires the presence of Office 2007 or later.
PDF - Attachment saved to disk: Email is converted to the PDF image, while attachments are saved to disk, and are not included in the PDF file.

Click "Export" to begin converting the selected Outlook e-Mails into PDF documents.
Fast e-Mail to PDF Document Conversion
Since version 7, PstViewer Pro is a 64-bit multi-threaded Windows application. e-Mail-to-PDF conversion times were improved by more than 3 times.
The time it takes to export and convert PST file emails to PDF will depend on the type of email content and the number of e-Mail file attachments. Text emails with no attachments are processed very quickly. HTML emails with attachments and hosted images that must be downloaded will require more time.
PDF Formatting Options
PstViewer Pro gives you full control over the export option. From the profile settings menu, you can adjust and customize how PstViewer Pro performs the e-Mail export operation. These settings may be accessed from the Export tab by selecting "Edit Profile."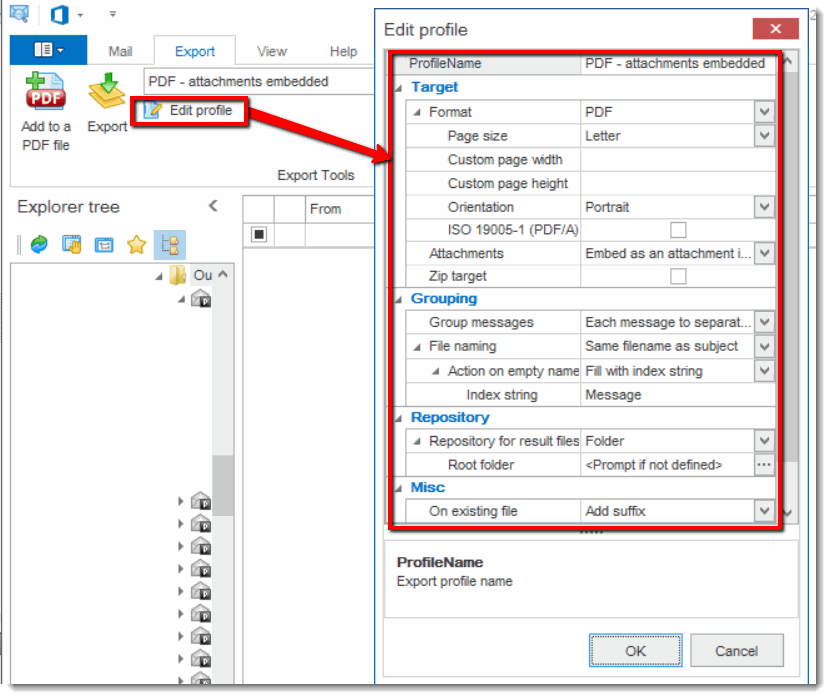 From this screen there are many settings that can be adjusted.
Set the preferred PDF page size, including Letter, Legal, Ledger, A-sizes, B-sizes, or set a custom size.
"File Naming" allows you to specify how PstViewer Pro will name the PDF files it creates. You can choose to name the files based on the e-Mail subject line, or create a "Custom" naming plan that gives you much more control over the PDF document naming process. There are many custom naming options available, and you can design your own, including numeric file names.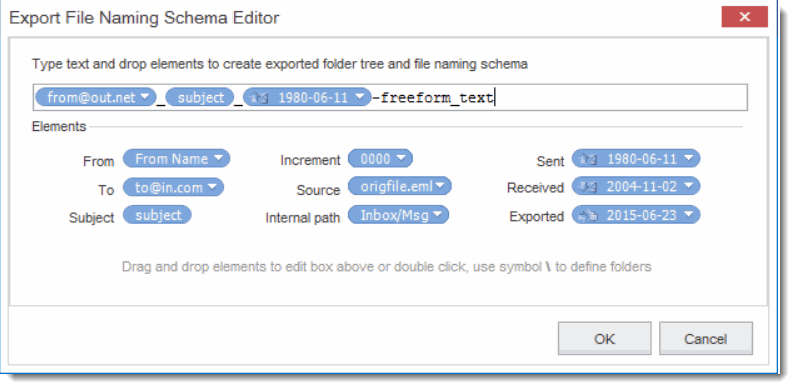 Download a free trial of PST Viewer Pro and run an export test. In trial mode, PST Viewer Pro will export up to 50 emails to PDF at a time. After registration, PST Viewer will convert as many emails as you select. We have tested on batches of up to 100,000 emails.
If you have any questions, email: sales at encryptomatic.com
PstViewer Pro requires Windows 11/10, 4 GB RAM, 2 GB disk space, and 3 GB processor. For more information, contact our sales team at +1.701.566.6731 x1 or email sales at encryptomatic.com. For product assistance, please open a help ticket.
See Also: MessageExport Add-in for Outlook