Quick Intro to PstViewer Pro Mbox Viewer
PstViewer Pro is the Mbox email viewer and converter for Microsoft Windows. Quickly access common email storage formats including Mbox, Pst, Ost, Msg, Eml, Mht and Winmail.dat.
Open Mbox e-mail files with PstViewer Pro. Emails are loaded in the mail list, where you can quickly view and search them, extract file attachments and even convert them to .PDF and other useful formats.
Pst Viewer Pro™ by Encryptomatic® LLC is a Windows software tool for managing emails stored in MBOX file format. Since 2006, PstViewer Pro is the trusted choice of professionals who do important work with emails. It has been downloaded more than a million times.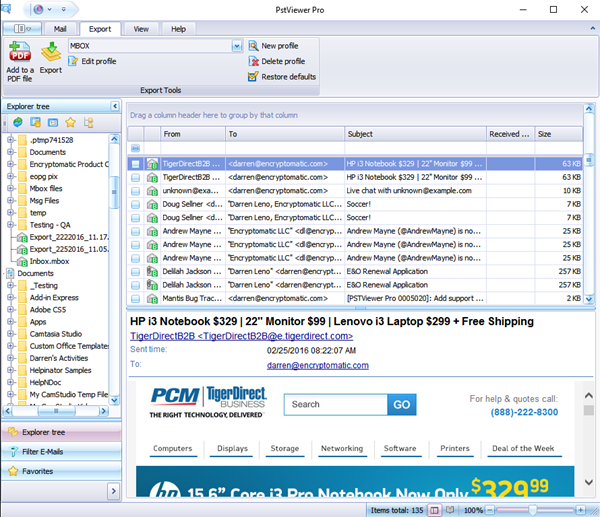 Pst Viewer Pro has a proprietary advanced email rendering engine that can accurately display complex MBOX html messages, including Rich Text emails with embedded graphics, and special formatting such as shapes, SmartArt and embedded charts. Hundreds of non-standard email formatting exceptions have been identified and individually included in the code, enabling this MBOX viewer to render emails that appear malformed in other software products.