Message Viewer Lite
A simple viewer for opening .msg and .eml email files
Opens .msg files created by Outlook and other applications, or .eml files created by Lotus Notes, Groupwise, Thunderbird, Outlook Express, Windows Mail.
See Also: Pst Viewer Pro for a full featured viewer
MessageViewer Lite can be associated in the Windows operating system to handle winmail.dat files. This will allow you to simply click on the winmail.dat file and view it.

Winmail.dat files are created by Microsoft Outlook to send Transport Neutral Encapsulation Format (TNEF) data with an email. TNEF contains information that allows Outlook to display certain formatting information (fonts, colors, etc) so that it can be reassembled by another Outlook client.
This information only applies to Outlook users, who will see a fully formatted document and never a winmail.dat file. Other email clients, such as Lotus Notes, Thunderbird, Outlook Express, etc., can't display this formatting and so the winmail.dat file appears as an email attachment.
How do I open a winmail.dat file?
You can install Microsoft Outlook, or you can install the Message Viewer Lite email viewer. First save the winmail.dat file to your desktop. Next open MsgViewer Lite, and navigate to the winmail.dat file using the File>Open menus.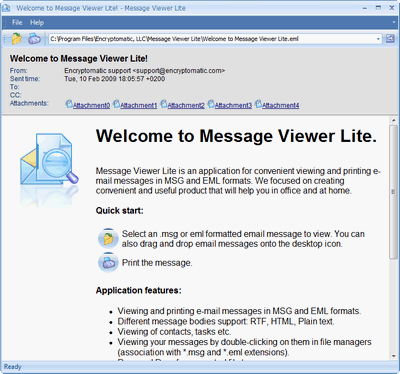 Site License, Custom Development, Redistribution Licenses available.
Please contact our sales department if you have a special request or requirements. Email us at sales at encryptomatic.com, or call us directly at +1-701-566-6731 x1