Download a 15 Day Free Trial
Try MessageLock free for 15 days.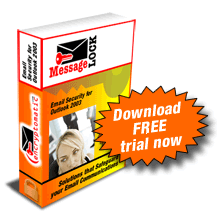 System Requirements: Windows 10/8/7, and MS Outlook 2016/2013/2010 (32 and 64bit). Microsoft .Net Framework 4 or later.
Uninstall this software by running the installer and choosing 'Uninstall,' or through the Windows Add/Remove Programs service. View End User License Agreement.
US Gov't Restrictions: MessageLock is approved for export (CCATS#G046634) by the U.S. Dept. of Commerce as a Mass Market encryption product.
Encryption Protection Software available on our web sites is subject to United States export controls. No software from these sites may be downloaded or otherwise exported or re-exported into, or licensed to a national or resident of Afghanistan, Cuba, Iraq, Iran, Libya, North Korea, Sudan, Syria, or any other country to which the United States has embargoed goods; or any organization or company on the United States Commerce Department's "Denied Parties List."
By downloading or using software from this site, you are agreeing to the foregoing and all applicable export control laws. You are also warranting that you are not under the control of, located in, or a resident or national of any such country or on any such list.
The information on export laws provided herein is not necessarily complete. For more information on export laws, please refer to United States Commerce Department, Bureau of Export Administration at (202) 482-2440 or (202) 482-4811.