The Zip Compression Add-in for Microsoft® Outlook®
MessageLock e-mail encryption is no longer in development. This project has been retired, and is described here for archival purposes.. It has been replaced by two related OutDisk add-ins : PDF Postman for Outlook and Encryptomatic OpenPGP.
MessageLock should only be used for file attachment compression in Microsoft Outlook 2000/XP/2003/2007/2010 (32 bit).
MessageLock Adds File Compression to the Outlook Toolbar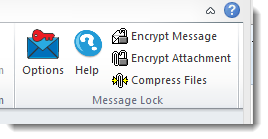 Email Encryption/Decryption and Zip Compression in a easy to use utility
MessageLock is an add-in for Microsoft Outlook that allows the sender to protect email messages using strong AES-256 bit encryption (exceeds HIPAA's minimum strength requirements).
To use MessageLock, open a new email message in Microsoft Outlook, and click the "Encrypt Email" button in the Outlook email toolbar.
MessageLock is virtually seamless when both sender and receiver have it installed. MessageLock will automatically decrypt inbound packets, and display the email as a regular message in your Outlook inbox.
Sending Encrypted Messages
When sending email to someone who does not have MessageLock, you can select among four methods to deliver your message securely:
Use the Lockbin message locker service

. Lockbin.com is a free service that will host your email and file attachments until the recipient can retrieve them. This option uses a FIPS-140 verified cryptolibrary for HIPAA compliance. Premium Lockbin members can also receive email messages and files directly to Microsoft Outlook.

Send using zip-compatible encryption

. This method requires that the user have a zip utility (such as Peazip.com or Winzip) to decrypt the MessageLock file and access the contents. The recipient may already have a zip tool, but if not, it is free to download. Using zip encryption works very well most of the time, but occassionally a firewall may block an encrypted zip file.

Require the use of MessageLock Decryptor

. This method requires that the recipient download MessageLock Decryptor to open the .ml256 packets that MessageLock creates. After installing the Decryptor, the user simply clicks on the .ml256 file to open your message; MessageLock Decryptor will then prompt for the password. This method has proven very reliable in delivering the encrypted packetl.

Send a self-decrypting file

. This method allows you to create a self-decrypting .exe file which when run, will prompt the recipient for the password. The user does not require any special software. The executable file is delivered in an unencrypted zip wrapper, accessible to Windows XP and later without a standalone zip utility.
Whichever method is chosen, MessageLock will remember it, and apply the settings to future encrypted emails to that recipient.
Password Storage
MessageLock will gather the passwords as you use it. If a password is required it will prompt for one. If it already knows the password for the recipient, then it won't ask again. Access to the master password list can be protected.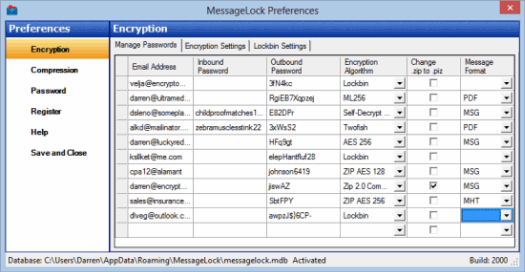 Use MessageLock to:
automatically unzip and decrypt any password protected zip files that you receive
secure your file attachments with strong AES-256 zip-compatible encryption
combine file attachments into a single smaller zip file
gathers your passwords as you send encrypted zip files, then recalls your passwords on future correspondence
System administrators appreciate these features:
If it is desirable to do so, you can distribute a "starter" password database. Users can optionally be locked out of password settings.
User intuitive: very little training is necessary to use MessageLock.
Silent install with command line key registration.
Install for all user accounts, or a single user.
Multiple MessageLock installations can be activated online with a single key.
For site licenses, or where online activation is not practical, MessageLock can be activated by including a key file in the directory.
combine file attachments into a single smaller zip file
gathers your passwords as you send email, then recalls your passwords on future correspondence
Integrated Zip Compression for Outlook 2013/2010/2007
MessageLock for Outlook will place your documents into a compressed and/or encrypted zip file. It can also create a self-decrypting .exe file. Users who have advanced needs to set rules for compression will find a number of options to configure MessageLock to their specific needs.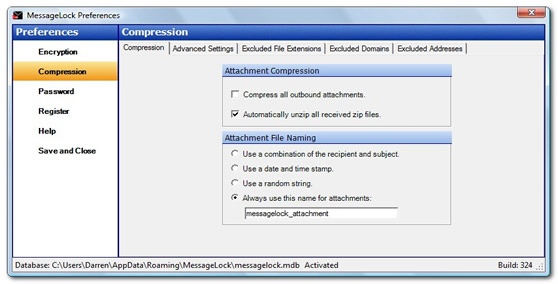 Download your free trial of MessageLock for Outlook.
Microsoft and the Office logo are trademarks or registered trademarks of Microsoft Corporation in the United States and/or other countries.