How to Open Outlook .MSG Files? Try MSG Viewer Lite
.MSG files are created by Microsoft Outlook. They are individual email files that contain all of the recipient data, sender data, message, file attachments, time stamps and other information required to transmit an email across the internet.
Do you need to open an Outlook .MSG file, but you don't have Microsoft Outlook? The Encryptomatic MSG File Viewer makes it easy access Outlook .msg files created by Microsoft Outlook, and .eml files created by Outlook Express and other email clients.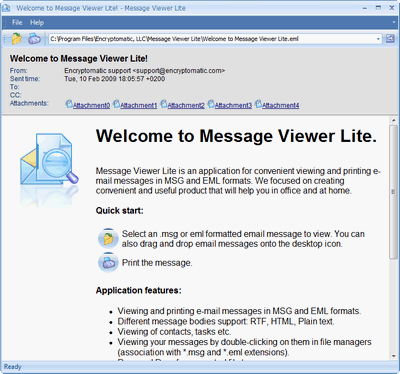 MSG Viewer Lite can read Unicode .msg and .eml files. You can also print the message, save it to a text file, and extract file attachments.
Easy to Use
Encryptomatic's Outlook .MSG Viewer may be installed as the Windows default .msg file handler. This enables you to display a .msg file by simply double clicking it.
Extracts File Attachments from Outlook .MSG Message Files
Extract any file attachments that were included in the .msg file. To extract email attachments, just double click on the file attachment and save it to a folder.
Custom Development and Redistribution License
Please contact our sales department if you have a special request or requirement. For example, if you are interested in licensing this viewer for re-distribution, require a site license, or have a special development need, we would like to discuss it with you. Contact us at sales@encryptomatic.com for a quick response, or call +1-701-566-6731 x1.

Available for Immediate Download after Purchase