Watch these short videos to quickly learn how to open Outlook e-mails, including .msg, .pst, .ost, and .eml files. After e-mails are loaded, you can view and search them, and convert them to .PDF and other useful formats.
Pst Viewer Pro™ by Encryptomatic® LLC is a Windows software tool for managing emails in stored in Outlook .PST files. It does not require Microsoft Outlook to work. PstViewer Pro is the choice of people who have important work to do with Outlook .pst files, and has been downloaded more than a million times.
Pst Viewer Pro is actually six viewers in one. In addition to being a competent Outlook .pst viewer, it will also read, search and export email formatted as .MSG, .OST, .EML, Winmail.dat and even .MHT files.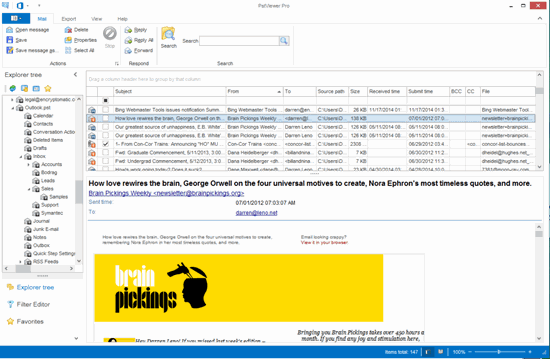 Pst Viewer Pro has a proprietary advanced email rendering engine that can accurate display very complex Microsoft Outlook messages, including Rich Text emails with embedded graphics, and special formatting such as shapes, SmartArt and embedded charts. Hundreds of non-standard email formatting exceptions have been identified and individually included in the code, enabling our Outlook viewer to render emails that others simply can not.
Reply and forward email messages from PstViewer Pro using your default Windows email application, such as Thunderbird, Outlook, or any other email client that supports Simple Mapi.