PST Viewer Pro
The Outlook .PST File Viewer.
View, search and export Outlook .PST, .EML. .OST and .MSG emails

PstViewer Pro opens your Microsoft Outlook .PST, .MSG, .OST, .MBOX and .EML files. Search functions help you quickly find what you are looking for. Export operations let you save your Outlook emails to different formats, including searchable PDF files, MBOX, MHTML, .MSG, and more.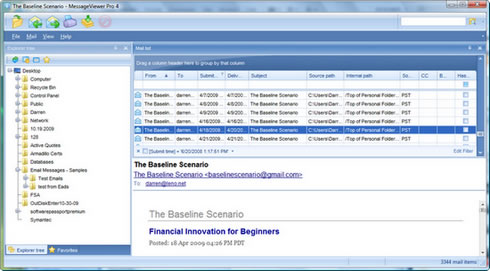 Even complex Outlook emails can be viewed in PstViewer Pro, including Rich Text messages with embedded graphics and special formatting such as shapes, SmartArt and charts, without Outlook or MAPI. Emails that appear incomplete or malformed in other readers will be clearly displayed in Pst Viewer Pro.
PST VIEWER Pro FEATURES...
Opens all Outlook .PST files (98/2000/XP/2003/2007/2010/2013/2016/2019/365)
Opens Outlook .msg files (rich text, text, and html)
Opens .eml files
Open password protected .pst files without a password.
View Outlook .msg email files (including OLE embedded objects) without MAPI or Outlook
View .msg files formatted as Outlook notes, tasks, calendar items, contacts
View .eml RFC-822 email files
Search emails based on advanced criteria
Export .PST to .PDF as well as .msg, .eml and .ost
Optionally Embed attachments within PDF
Optionally convert attachments to PDF content.
Reply and Forward using your default email client
Search email fields including Message Text, From, To, CC, Subject, Date Range, Header
Reads Messages stored in Recursive Directories
Reads Messages stored in a Read-Only state
View Internet header
View MAPI properties
Export emails to PDF, MHT, HTML, TXT, JPG,TIF, CSV, PNG, BMP
Export email file attachments
Batch select up to thousands of emails for print or export operations
Auto-extract file attachments
Print selected emails Renders Rich Text, HTML or Text
Copy selected emails
Favorites list (locations or files)
Set as Windows default for .pst, .ost, .msg or .eml files
Silent Installation from command line with msi file
Print emails from command line
Configurable user interface
Apply flexible criteria to file names during export operations
Set text viewing as default
Configurable UI
Language Menu Support for English, French, Italian, German, Russian, Polish, Chinese, Arabic,Portuguese.
Site licenses, White Boxing, Special Licensing and Product Customization available.
Automatic software update notifications (may be disabled for enterprise users).
No Risk! 15 day free trial followed by a 30 day money back guarantee.
Pst Viewer Pro requires Windows 10/8/7 .Net Framework 4 or later, 1 GB RAM, 250 MB disk space, and 1 GB processor.
For more information, contact our sales team at +1.651.815.4902 x1 or email sales at encryptomatic.com. For product assistance, please open a help ticket.