Try PST Viewer Lite email viewer for Windows Free for 15 days!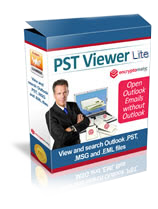 *PstViewer Lite requires Microsoft Windows 11/10, 64-bit, .Net Framework 4.8 Apply latest Microsoft updates before installing. Minimum recommended hardware: 4 GB Ram. 3 Ghz processor. 2 GB disk space.
PstViewer Lite is developed and supported by Encryptomatic LLC, the operators of this this website.
Uninstallation: This software may be completely uninstalled at any time by using Windows Add/Remove Programs service, or by running the installer package and choosing the option to uninstall.
Safe to Use?
Our Windows desktop software products never send information about your emails to the cloud. Your emails remain on your PC, under your control and are never transmitted to us. Our products do not alter your email files. We do not sell your information or gather details about your emails.
View the End User License Agreement. The EULA is also presented at the time the software is installed.
Can we send the download link by email?
If you would like us to send you the download link and then have someone on our support team follow up with you, please enter your information below.
We respect your privacy, and we promise not to share your information with anyone else.
Trouble Downloading? Let us know. Support (at) encryptomatic.com