The Email Reader for Outlook.
Reads .PST, .MSG, .OST and .EML Files
15 Day Free Trial.
Outlook Pst files can be read and searched by Pst Viewer Pro. Whether you have Outlook installed on your computer or not doesn't matter. Pst Viewer Pro can open any .pst file, whether it's the newer Outlook 2013 Unicode .pst file, or the older Outlook 2000 ANSI .pst file. Pst Viewer can also read Outlook .ost files.
When you own Pst Viewer Pro, you are actually getting six email readers in one app! It also reads .MSG, .OST, .EML, Winmail.dat and even .MHT files.
Pst Viewer Pro takes great pains to render your email message accurate, and display it as it would have been displayed in Microsoft Outlook. Complicated Outlook emails, including Rich Text emails that include graphic elements and special Microsoft Office formatting such as SmartArt, Excel charts and embedded pictures.
Pst Viewer also includes hundreds of manually coded non-standard mail formats that are created by 3rd party applications. These exceptions can cause formatting problems or be unreadable in other viewers or email clients. Pst Reader Pro can show you emails that others simply are unable to.
Pst Viewer Pro is Simple To Use

Most of the functions are available directly from the Pst Viewer Pro toolbar. You'll have easy access to the advanced functions that you'll want to use the most, such as Reply, Reply All, Forward email, Advanced Search emails by date and fields, email print (batch print is supported), and text string searches.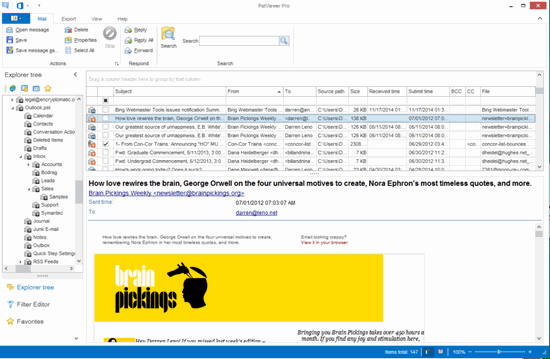 Converting .PST to. PDF
There are many reasons why you might need to share emails are a .pdf file. Long term archiving, or evidence submission to a court of law, among other reasons. Our pst reader gives you access to advanced pst to pdf conversion tools. Many options allow you to lets you choose how email file attachments should be processed. For example, you can save file attachments to disk while the email is converted to pdf;, convert attachments directly into the final pdf image; embed attachments them as individual files that can be extracted from the .pdf file later. Pst Reader Pro has implemented the ISO 19005-1, also known as PDF/A, and is compliant with this important email archiving standard.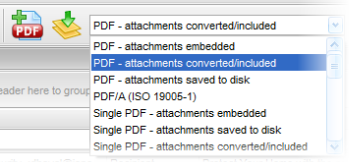 Pst Viewer Pro's pdf export functions let you:
Convert .pst emails to PDF with email file attachments embedded within the PDF file
Convert email to PDF with many common file attachments types converted into the PDF image
Bulk extract email file attachments to a location on your hard drive
Convert multiple emails into a single PDF file
Add selected emails to an existing PDF file
Archive emails using PDF/A - ISO 19005-1 standard
Export email to other formats including GIF, TIF, BMP, JPG, CSV (Excel), HTML, MSG, and MHT
Select among different page formats such as A1, A3, etc., or define your own
Reads All Outlook Pst Files
Read .pst files created by any version of Microsoft Outlook, including newer Unicode and older ANSI .pst files. It also handles with the latest Outlook 2013 .pst files.
System administrators are able to customize the user interface, removing any features their users don't need. An .msi file supports silent deployment and silent registration. Detects your operating system and installs either the native 64 or 32-bit version automatically. 64-bit PST Viewer Pro is able to use memory above 4 GB for improved performance with email search and export operations.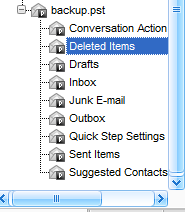 Search Your .PST Files
Pst Viwer Pro helps you find the important email messages you need. Use "quick search" to sift through thousands of emails fast. Use "Advanced Search" to specify multiple search criteria. Search across a specific range of dates, sender, or the recipient's email address.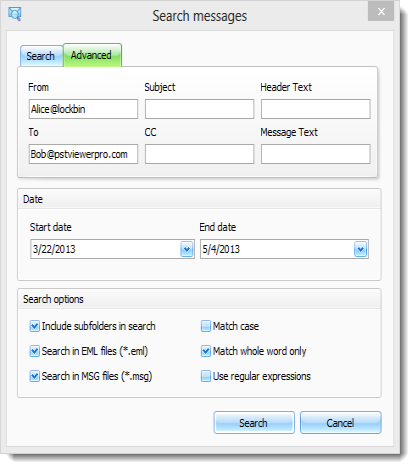 Reads Password Protected PST Files
Pst file passwords can be set and easily forgotten. If this happens, Outlook will refuse to open the file. But Outlook password protection won't prevent Pst Viewer Pro from opening your .pst file in most cases.
Outlook offers two protection schemes for PST files: weak password protection, and strong encryption. Pst Viewer Pro can quickly break the common weak password protection and give you back your email access. However, Outlook encryption cannot be broken without a brute force attack and very specialized software, and even then a strong password may prevent access to the emails. If you are unsure whether your PST file is protected or encrypted, use our free trial to see if Pst Viewer Pro can open the file.
Download a Free Trial of Pst Viewr Pro
Pst Viewer Pro software is distributed as a code-signed .EXE executable and a .MSI Windows Installer Package. This means that our identity as a publisher has been verified by a third party, so that you can install our software with confidence.
In enterprise environments, license activation and silent installation can be accomplished by using the command line parameters specified in the help file. An activation free version is available for enterprise site license customers and for use in some shared environment settings.
Learn more about the Advanced Features.
Watch these online Demo's and see our Pst Reader in action!
Questions? Contact our support team
Pst Viewer Pro requires Windows 10/8/7 .Net Framework 4 or later, 1 GB RAM, 100 MB disk space, and 1 GB processor. For more information, contact our sales team at +1.651.815.4902 x1 or email sales at encryptomatic.com. For product assistance, please open a help ticket.
Microsoft®, Office® and Outlook® are trademarks of Microsoft Corporation.